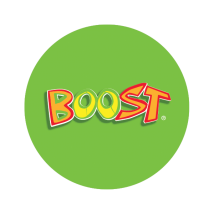 Boost Juice
LOVE LIFE: Life is about balance. Love the good the bad and the ugly and life will love you back. Boost have a range of juices and smoothies to help you get the most out of life.
Boost Juice is Australia's most loved juice bar and a true Australian success story. Founded by adventurer and suburban mum, Janine Allis, in 2000, the Boost Juice is now operating in more countries than any other juice bar in the world.
The business has squeezed and blended its way through thousands of tonnes of fresh fruit and veg every year, including over 2000 tonnes of watermelons, 49 million blueberries and 3 million bananas a year in Australia alone.
That passion for healthy, fresh taste has translated into over $2 billion in global sales since inception, delivering fresh juice and smoothies with Boost's signature "love life" philosophy in 17 countries.